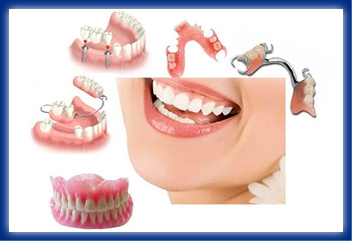 It is a specialty of dentistry dedicated to the restoration and maintenance of oral functions in terms of chewing, phonetics and aesthetics, through the repair of damaged teeth and the placement of fixed, partial or total dental prostheses.
When a tooth is missing or when the teeth are not recoverable and taking into account the disadvantages associated with the use of removable prostheses, the ideal solution consists of the placement of the unit crowns on implants or bridges. It must be borne in mind that this branch of dentistry integrally combines the areas of fixed prosthesis, removable prosthesis, operative, occlusion and implantology, which makes the diagnosis and treatment plan appropriate to the highly complex patient who wants to recover his oral health through the most modern techniques of rehabilitation and, in turn, establishes a close relationship with the other disciplines of dentistry, such as periodontics, endodontics and orthodontics.
If you want more information, contact us.
Benefits:
• In Innodent we have an intraoral camera that offers the patient the possibility to visualize in real time and in great detail his own oral cavity, generating confidence in the patient.